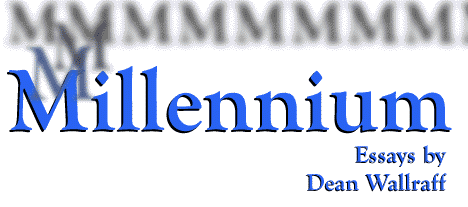 | | | |
| --- | --- | --- |
| | I started this set of essays in 1990 with the intention of publishing it in book form shortly before the year 2000. Now that we have the Web, I'll publish it continually here as I complete each essay. Millennium is an electronic book of traditional essays. | |
Dedicated to the memory of my father, Prof. Charles F. Wallraff
1908 - 1991


Millennium
What will things be like a thousand years from now?
Philosophy as Religion
A discussion of philosophic faith
Occam's Razor
Why are men (and women) so attached to the idea of God?
The Singularity
How come major milestones are happening closer together?
Aladdin's Lamp
Are we living in a simulation?
Athens & Sparta
Things are out of control as culture evolves.
Getting Off the Earth
We should set up another place to go if we're going to keep on trashing our planet.
An Atheist on a Spiritual Quest
How can we atheists create our own satisfying personal religion?

Copyright 1990 - 2003 by Dean Wallraff. All rights reserved. Please do not copy without permission.